Naganuma town has beautiful sceneries, delicious foods and many healing spots.
You can enjoy all the seasons.
Please drop by the store during your travels or on your way home.

This illustration guide map of Naganuma town is the original map of "Ice no ie". Please download it from the above icon and bring it along with you on your trip.

※Some facilities are not listed here because the operating hour and holidays vary depending on the season.
We kindly ask you to check with those facilities in advance about their operating hours and days. Thank you for your cooperation.


A

Kitanaganuma Suigo Park

It is a vast park about 25 hectare at the foot of Oguri Bridge which sits over the former Yubari River which has now become an oxbow lake.There is a park golf course(36holes) and a cycling course. You can enjoy many leisure activities and picnics with your family. There are also produce stands.

Higashi2sen Kita

B

Maoi Golf Resort

There are 27 holes out of the three courses which utilize the rich terrain. Each course has a unique expression, so you can enjoy the wonders of nature in Naganuma town.

Higashi5sen Kita10

 TEL.0123-88-3010

---

C

Bungakudai

  (literary monument)

The monument was erected in 1972 in commemoration of the full-length novel "Maoi plain" written by Motoko Tsujimura. There, the Ishikari plain spreads just below and the view from the monument's observation deck is magnificent.

Higashi7sen Kita(

Maoi hills)

---

D

Maoi hot spring

It's a hidden hot spring water that has been familiar to people inside and outside the towns as a therapeutic bath for about a century and it was founded in the middle of the Meiji era.

The colorless and transparent hot water is effective for alleviating chronic rheumatoid arthritis and it's also drinkable.

Bangaichi

Fushiko

 TEL.0123-88-3737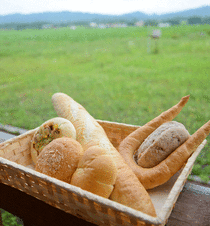 E
Ichigensya Bakery
The shop is located in the outskirts of the town where the pastoral scenery spreads beyond the city and visitors come from all over.
There's a cafe space situated in the cozy house bakery shop. You can eat bread purchased there and also enjoy some good coffee.
Higashi2sen Kita6
 TEL.0123-88-2552
---
F

Kanehiro (Naganuma Genghis Khan)

Genghis Khan= Grilled Sheep meat dish.

It uses the original sauce founded through experimenting with a blend of various ingredients. It's made from locally grown produce. The Genghis Khan lasts for no more than one week because it does not contain any preservatives and it's not available for purchase at any supermarkets.

Nishikimachi Minami1chome-1-19

 TEL.0123-88-2628

---

H

Naganuma hot spring

It boasts an incredible water yield amount of 1150 L/min which is one of the largest yields of hot spring water in Hokkaido.

It is a strong saline spring containing sodium chloride and is effective for alleviating neuralgia and sensitivity to cold. The fountain temperature is 50.2 ℃.

There are various bathing facilities such as an open-air bath, sauna, jacuzzi bath, waterfall shower and etc.

Higashi6sen Kita4 

 TEL.0123-88-2408

---

G

Art Space Kei

Naganuma is an art town, too. There are artists who strive to create artwork from various fields.

Art Space Kei mainly exhibits and sells works of local artists who live in Naganuma or work at the atelier in Naganuma.

Asahimachi Minami1chome-1-2

 TEL.0123-88-0414

I Exauisite and well conserved

 waters of Maoi

It is a soft and tasty spring water that has a good repu-tation and is popular among people. There are a constant flow of visitors during holidays.

The communal water supply is available from 7AM to 7PM and the maximum amount of water one can take is 40L at most.

Higashi8sen Kita3

---
J Heidi Ranch
They raise and allow visitors to interact with livestock from around the world. You can experience petting and feeding various animals, making milk jam, horseback riding and etc.
It is a ranch that adults can enjoy as well as children.
Higashi9sen Minami2
TEL.0123-88-0011


---

K

Matsumura Farm
  Produce Stand

They sell vegetables and cereals which they harvest themselves. Cabbages are sold

starting in June, corn in July, potato in August and rice in October.

You can experience harvesting produce such as strawberry picking in June. At the factory, "Doburoku" is sold from June to November.

※"Doburoku" is a milky white, unrefined sake made from rice, rice malt, and water.

Higashi9sen Minami5

TEL.0123-88-1501

L

Road Station
  Maoi Hill Park

There are kiosks, restaurants, art galleries and observation spaces in the center house which represents a silo.

On the premises, there are park golf courses and produce stands that sell fresh and reasonably-priced produce. It is an oasis for many people who use National Route 274 for a break, leisure and shopping.

Higashi10sen Minami

7 

TEL.0123-84-2120(center house)

---