Around Naganuma town you can find the wonderful blessing of nature such as freshly squeezed milk and etc.
For our customers, we would like to deliver delicious products that bring out the best in each ingredient used.
Ever since our store's opening, we have prioritized the happiness of our customers, who are more than satisfied with our product.

Our commitment to
the ingredients


We select our ingredients with the utmost care based on our commit-ment to providing "safe" and "healthy" food.
We use cage-free eggs from healthy chickens that roam freely and vivaciously in the majestic nature of Hokkaido.
Every morning, we sterilize the freshly squeezed raw milk sent from local dairy farmers nearby Naganuma town and use it for making ice cream, cheese and etc. The milk and flour, which is 100% made in Hokkaido, are also used for making dough for roll cakes and other confectionaries, which are also baked every morning.


Our commitment to the manufacturing process


For the manufacturing of ice cream, emulsifier, thickener, skimmed milk powder, starch syrup and the like are widely used. However, our products use as few additives as possible, high quality milk, carefully selected ingredients, and 100% apple pectin which is a popular health food nowadays.
Also, using less overrun (air volume) than general ice cream is the key to our taste.



Our commitment to
the taste


In addition to "Overrun-content-adjustment", we also conduct "aging" over night.
"Aging" is a process to increase viscosity by letting the ingredients of the ice cream sit over night to gain smoothness and richness.
This is the secret to our delicious taste.
We strive to produce safe and healthy products for our customers by using carefully selected materials from Hokkaido, where dairy pro-duction is one of the major industries.

---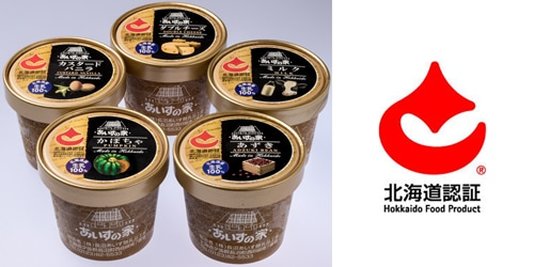 Hokkaido certified food
Kirarippu mark, which is certified by the Hokkaido govern-ment, is the certification mark that proves the safety and the security of food.
The food which is produced under a rich natural environment in Hokkaido is highly prized for its taste and freshness by consumers across the country.
In order to respond firmly to this trust, Hokkaido's government uses this Kirarippu mark, Hokkaido's unique certifed food system based on safety and security, in order to acclaim its products as Hokkaido certified foods.
This is a system that authenticates only those items that clearly pass the high standard of requirements for raw materials, produc-tion processes, hygiene control, taste, etc. for Kirarippu products.
As of April 1, 2017, only five ice creams (pictured at the left) from "Ice no ie" are certified as Kirarippu products.

---
---